Tomorrow my life starts again.


Christmas break is over and college starts full speed with 2 papers I have to give in this first week. *sigh* We are nearing the exams again so the next 2 month will be hard on my nerves.
It would be so much better if someone would just pay me for reading books the whole day but unfortunately I haven't found this person so far. So, no way to get around studying. Life can be unfair! LOL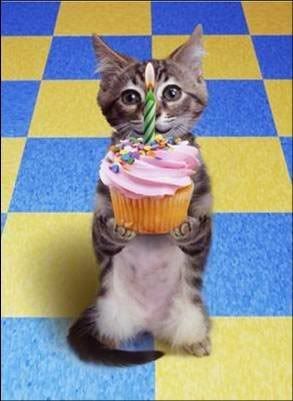 But there's also a good thing happening next week. My Birthday!!!! Yay!

Okay, I'm not that happy about it because I will turn 25 on the 13th January. Yeah, I know quarter century and all, but I so won't think about that. It's a reason to celebrate after all and I will do that. We have a big party planned for next Saturday(note to self: have to remember to invite people or it will be a really small party). My family will come over at the weekend too. One part on Saturday and the rest on Sunday. That will be stressy weekend but fun too. And I already shudder when I think of the cleaning I still have to do. Perhaps I should get BF to do all that cuz after all I will be the special Bday guest?


So now you think, that's great for you but why do you tell us? I want pressies!!! Nah, just joking. I will reverse this pressie giving a bit and decided to make a giveaway out of it.

*~*enter applause here*~*

So here's the deal: I will give away ONE book! A lucky commenter will receive his choice of a book I reviewed here on the blog. To know from which books you can choose just look here. There's another little catch: the book must be available at The Book Depository(so please not one of the ebooks cuz I have no idea how I can give those away without breaking any laws- sorry about that).

Giveaway rules:
1.) Leave a comment telling me about your best bday experience! I don't has to be your own bday!
2.) Tell me which book you want! It has to be a book I reviewed here on the blog. To know from which books you can choose just look here. No book- no entry!
3.) Leave me a way to contact you(email in blogger profile is okay)!
4.) You can get an extra entry when you spread the word about the giveaway(just leave a link).
5.) Open to everyone as long as Book Depository delivers to you!
6.) Giveaway ends on the 17th January and I will draw a winner after getting up the next day!

That's it! So what are you waiting for! Comment away!