The last few weeks in Germany were rainy and stormy. That's so not my weather. I'm all for warm and sunshine so I definitely need something to light up these bad days.
Typical for me I couldn't find my umbrella a few weeks back so I searched around for a really cool one. Heather from Book Obsessed gave me a link to a wonderful website Geeksugar and I found an article about umbrellas. =)

Here are my two favorites:



The first one is my absolute favorite: The Lightsaber umbrella! Yes you read right!

Since I was a kid I always wanted my own lightsaber. Not one of these plastic thingies, I wanted a real looking one. But these are mostly way to expensive so why not just combine the wish with something practical like an umbrella? And never again it will be to dark under the umbrella.LOL And I want the red one. Yeah, I know only the Sith have the red ones but I'm a girls and I want the cloth matching color and that's red for me! You can buy it here, or so I think. I don't understand one thing on this website but the pictures are nice. Seems to be Korean or something like that. Damn!

The second one has a very popular theme: Twilight. You ask why is it geeky than? Because it has batteries. It's sold on a UK website here and it seems they know what to do when it's raining! LOL. Look here: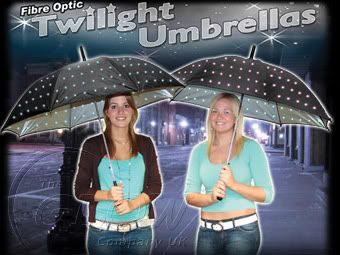 This one has many tiny LEDs and imitates an starlit sky. Isn't that cute. I have no idea what that has to do with Twilight beside that it sparkles, probably only to get more sales. But it's a lovely idea.

What do you think?