I know I'm a bit late but I couldn't find the energy to make this list and because I have a bit of free time this week I thought total relaxation would be a great plan. In other news my birthday is next week and I already can't wait. *g* My sis told me she bought books so yay!!!

But here it finally is, my last reads of 2010: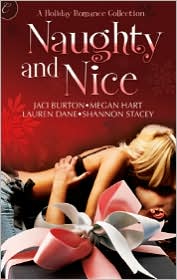 1. Naughty and Nice by Jaci Burton, Shannon Stacey, Megan Hart, Lauren Dane
(
my review
)
An anthology that finally brought me the missing christmas mood. I was so happy that Ms Stacey had a story in this one. I love her story and her writing was wonderful. Can't wait to find more. A very entertaining collection- I love Carina Press more and more with every read.




2. Hardware by Sara Brookes
(
my review
)
Story about a geeky girl with a coffee addcition. Yes I was in heaven! Even more when the hunky barista guy showed up and started the kink times. I could have done without all the talk though. *gasp* that out of a woman's mouth- I'm shocked too.



3. The Iron Duke by Meljean Brook
Wow and WOW. WTH did I wait so long? This is such a wonderful and entertaining book. I loved it to pices. Adevnture, mystery, action, suspense and a wonderful romance. I'm really fascinated by this whole steampunk thing- it's liek ebing geeky with steam and yes I discussed if those gadgets could work with BF. So much love for this book! Can't wait for the next one.





4. Head over Heels by Annemarie Hartnett
(
my review
)
I'm so happy I had the chance to read this one. It's fun and wit in superlative. Ms Hartnett's humor is right up my alley and her characters feel like actual real persons. I love how she always has some toy in the mix *wink* An author I will keep both eyes open for.




5. A Peyton Family Christmas (Southern Arcana #2.5)by Moira Rogers
I read this after Deadlock and I lurved this one. It's set between Crosscroads and Dealock and shows us all the charcters we started to love so much. I loved to see more about her. It's a free story at their website so if you would liek to read it go
here
.




6. Trust Me (Lassiter Group, #1) by Sydney Somers
After reading so many good things about this author I just couldn't resist the chance to read this one. And even though I'mnot a romantic suspense lover I adored this one. Captivating and a real pageturner. Review to come this week.




7. Play of Passion (Psy-Changeling, #9) by Nalini Singh
To wolves are our couple of interest in this one and yes I really liked it. All the growling can be fun. The romance was so cute, even though I wanted to slap Indigo more than once. The overall plot thickens more and more and OMG I can't wait for Hawke's book. That one will be a total win and I'm actually counting the days to get, even though it will be hardcover. *grumbles*




8. Immortal Champion (Immortal Brotherhood, #3) by Lisa Hendrix
(
my review
)
Something out of comfort zone but I fell in love with Ms Hendrix' Viking heroes. You can feel how much time was spent on research and I loved how much detail and love shown through the story. I had some ruffles with some parts but I think that's jsut me. I know many reviewers who loved this one even more than me.



9. Sensual Stranger by Tina Donahue
DNF
I actually really looked forward to reading this one but gasp it was to much for me. I couldn't connect to the characters and didn't really get were all the sexual attraction came from. For me the way teh story started was too easy and I was shaking my head most of teh time. Perhaps I was just not in the mood for a sexy read. Will give it another try in the future, when I feel more in a smexy mood.

How was your reading December?